My Automatic Pool Cleaner Rocks!
I love my Aquabot automatic pool cleaner. OK, It' really the pool cleaner that I love...just happens that mine is built by Aquaproducts.
Bought the swimming pool, bought the landscaping, bought all the toys. When I finished "buying" for the 36X18 inground swimming pool...I had no time to enjoy it. Pool days quickly evaporated like water sitting under the hot Summer sun.
Then, I bought the Aquabot for the swimming pool. I immediately discovered more time. I was SWIMMING in time and water.
Only problem was cleaning the bag. The nasty crud from the bottom of the pool had to be cleaned out. This took time and the job was messy. Everything changed when I discovered disposable bags. This one single item truly maximized the convenience of my automatic pool cleaner.
I have not used a pool vacuum in 10 years, This is the year 2019 so the last time I dragged out the hose was 2006. Sometime tween then and now I just threw away the vacuum equipment because my robot works that good.

This robotic pool cleaner is the best gift I ever bought for MYSELF! My 'bot freed me from being a slave to my swimming pool.  I am now MASTER and COMMANDER of my pool.
I use the word Aquabot interchangeably with automatic pool cleaner. There are many other brands and I am sure all are equally as good.
If you have a pool, be it above ground or inground, get a robotic pool cleaner. ANY brand...because...
If time is money, a robotic pool cleaner will make you wealthy.
The pages on this site are the product of many years experience using and repairing a pool robot.
What Swimming Pool Stores won't always tell you.
I wrote several pages about water chemistry and chemicals. Learn easy, economical (cheap) swimming pool chemistry. These pages will save you time and money, possibly hundreds of dollars.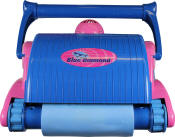 The above photo is a Blue Diamond automatic pool cleaner. This is one of my favorites(I have several favorites). I have tried many many models and my bottom line is...must use a standard size bag, must have only ONE bag and absolutely no reusable cartridges.
Biggest problem with cartridge machines is lack of space to hold debris.
The pages that follow have some reviews that I try to keep current but just can't stay on top of all the new models. While the machine styles change, what you need the machine to do stays the same.
Thanks for stopping by, comments and suggestions are deeply appreciated. Use the search function located on the nav bar to look for specific topics.

That's right, throw the filter bag away!
Search I Love My Aquabot Automatic Pool Cleaner
Pool cleaners are built to operate on pressure, suction or robotics
The best pool cleaner is somebody you hire. Otherwise, the best pool cleaner is any robot you can afford.
My pool cleaner review and selection of an automatic pool cleaner
Select the Best Automatic Pool Cleaner For Your Swimming Pool
Pool Cleaner Comparison Chart of Mostly High End Robots
Portable pool cleaner can do double duty as a swimming pool cleaner and pond or spa cleaner
Aquabot troubleshooting guide. In-depth and detailed.
Some aquabot parts Repair are easier to than others. I have a few suggestions.
Aquabot repair stories written by visitors to i-love-my-aquabot-automatic-pool-cleaner.com
Your Automatic Pool Cleaner is a durable machine, here are several tips to keep it trouble free,
Maytronics Dolphin Repair Is Limited to the Outside of Your Automatic Pool Cleaner
Tiger Shark Pool Cleaner repair information and a comparison to Dolphin Diagnostic pool cleaners
Swimming pool maintenance is for everybody. Equipment is for the swimming Pool
A saltwater chlorinator has so many advantages. Many obvious and many not so obvious. Say goodbye to your chlorine pucks!
Please use this form for general questions. Include an Email address if you wish a reply.
Disclaimer
Photos of the wiring inside the aquabot power supply with a four wire plug.
How to correct a wet transformer power supply for automatic pool cleaners after getting submerged in water.