Pool Cleaner Review
---
---
The best performing robot is...
The envelopes please... My Pool Cleaner Review and pick for modest (relative) cost and high end cost. But first, a few words about the other machines.
I am sure that Maytronics builds excellent Dolphin brand pool vacs, Dolphin pool robots are manufactured in Israel.
The biggest difference between Aquabot and Dolphin?. Aquabots are user-repairable or repaired locally. Maytronics Dolphin machines must be taken to a dealer and the dealer sends it out for repair.
The second big difference: Aquabot uses drive belts, Dolphin is direct drive. I love the idea of direct drive to eliminate the need for belts but if ANYTHING gets jammed in the drive system, toy or even an acorn, the electric circuits will suffer irreparable harm.
Third, Aquabots across the board weigh less.
Click here for a series of emails from a visitor asking for, and getting a clarification of my recommendation.
Scroll down to write your own pool cleaner review OR read my other reviews OR read what other robot owners have to say at page bottom.
Opens the envelope...I have used all the robots mentioned in this pool cleaner review.
My favorite cleaners, Blue Diamond, Aquabot Bravo, Aquabot Turboand Aquabot Turbo T-Jet (or similar models). American made Aquabot Turbo/Tempo/model G is a fast, reliable machine that works and is reasonably priced. I have owned an Aquabot for many years of great service. Add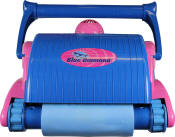 disposable filter bags and you have both a clean pool and time to enjoy it.


AVOID Aquabot S2-40 and S2-50. Scroll Down For This Pool Cleaner Review
Aqua Quality Pools offers a better deal for the Turbo Model G by including a tune up kit. This kit includes a set of replacement belts, 2 stepped rollers, 2 drive tracks, 1 pair PVA brushes and a fine filter bag. These are parts you will eventually need and buying separately + shipping costs can easily mount to more than several hundred dollars. For international shoppers, I asked Aqua Quality about 230 volt power and they said: "YES - WE HAVE 230 VOLTS / 50 HERTZ TRANSFORMERS THAT CAN BE RETROFITTED INTO THE POWER SUPPLY BOX. FOR AQUABOT, AQUABOT TURBO, AQUABOT TURBO REMOTE CONTROL, AQUABOT PLUS REMOTE CONTROL, COMMERCIAL MACHINES TOO. ALSO FOR POOL ROVER ALSO FOR BLUE PEARL, BLUE DIAMOND, BLUE DIAMOND R/C, BLUE DIAMOND PRO"
The Turbo cleans faster, twice as fast, than a basic Aquabot. If cost is a factor buy the regular Aquabot. In fact, the Tempo/Turbo is faster than most other robots.
A word about the Aquabot Pool Demon model T. It looks like a hybrid. The pump of a basic machine and the motor of a Turbo
Aquabot parts are readily available from many dealers. Try finding the cost for a replacement pump or motor for any other brand. Actually, just try finding a pump or motor for other robots. All machines break sooner or later and I want to know the price of the most expensive parts up front.
Simplicity of design, conservation of moving parts and weight were factors I used to make my selection. Weight matters a great deal when pulling a water laden machine from the pool.
The Turbo T2 and T4 Look like great machines, however they have many more parts due to clutch rollered, piston actuated, hydraulic steering. The T4 is a T2 with remote control. God help you if the very expensive T2/T4 freezes.



The Turbo/Tempo/Model G is everything I want at a great price. Simplicity, fast, weighs just 16.9 pounds and has a minimal amount of moving parts all for reasonable cost.
Do you need remote control? Not for 500 bucks. The idea is to throw the robot into the water and walk away, NOT drive it around the swimming pool.
My second choice based on cost, simplicity and operational efficiency is the Aquabot Turbo T-jet for both in-ground and above ground pools. See my pool cleaner review below for more information.
TOP SHELF PICK
I love the Aquabot Bravo and the Blue Diamond pool cleaners. They are identical machines and come equipped with bigger, better and faster drive motors and pumps. I have gotten 6 cleaning cycles before changing my disposable filter bag.
The internal programming allows more time on the floor and less time on the wall and The wiring harness is less susceptible to corrosion.
The Bravo and Blue Diamond machines I used for this pool cleaner review cleaned my 18X36 pool in 2 hours or less. The only negative: The high speed will cause the robot to glide over large accumulations of sand with out sucking it up.
If you can afford the cost, get a Blue Diamond or Aquabot Bravo. No disappointment with either.
Parts for Blue Diamond, Bravo and Aquabot cleaners are mostly interchangeable with regard to drive belts, rubber brushes, tracks, bushings, stepped rollers and wheels.
You can expect many years of outstanding service from your pool cleaner. You must remember that it is a machine and all machines break down sooner or later. It is important to get the maximum performance with a minimum number of parts.
Buy an Aquabot Tempo/Turbo?Model G/Bravo/ Blue Diamond new or buy one used. Just buy one! Start enjoying your swimming pool.
HOW TO SELECT THE CORRECT ROBOT FOR YOU (new window)


Aquabot S2-40

Aquabot Bravo Viva Review

Aquabot Plus RC Review

Aquabot T2 T4

Aquabot Turbo T-Jet

Dolphin Pool Cleaner Review

Dirt Devil Rampage

Water Tech Blue Diamond/Blue Pearl

Aquavac Mako Shark, Tiger Shark

Polaris 9300 Sport

Above Ground Pool Cleaners

Pool Blaster Review

Portable Pool Cleaners for Pros and Homeowners

Publish Your Own Pool Cleaner Review
Do you have a loved or hated robot? Help other people choose a pool cleaner by writing about it.
Helps me too. I don't have the time or money to try all available pool cleaners
Submissions can be found at the bottom of this page
Read Other Visitor's reviews
Click below to see Reviews from other visitors to this page...

---