Saltwater Chlorinator, The Future Is Now!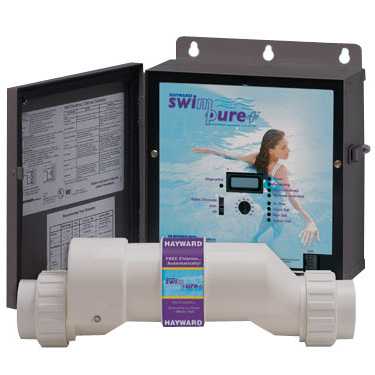 I found a saltwater chlorinator sale at Leslies while shopping for a replacement in-line chlorinator (July, 2010). cost $1199 with free installation for the Hayward 40,000 gallon SwimPure System.
Have wanted one of these since they came on the market but the steep upfront cost caused steep procrastination. This is on my "Gee, I'm glad I bought that" list.
The negative: the upfront cost. $1199 for the unit, 18 bags of salt, 40lbs/bag/$10, plus sales tax set me back $1450.
Occasional addition of stabilizer is required.
Now the positives:
1. No more buckets of chlorine pucks.
2. No more chlorine bucket storage problems.
3. Much less cyanuric acid accumulation allowing...
4. Greater use of Di-chlor pool shock. pH neutral and stabilized.
5. May never have to add shock because the saltwater system will generate "shock levels" of chlorine.
6. Greater pH stability because the highly acidic tri-chlor tablets are no longer reducing the pH.
7. Go on vacation and never again worry about the chlorine.
8. Continuously creates chlorine
9. Water is softer and smells better.
Saltwater Chlorinator For Above-Ground Pools & Spas
On a recent visit to Aqua Quality Pools and Spas, Inc., I was introduced to the SALTRON® RETRO by Solaxx. A Salwater chlorinator for above ground pools that chlorinates 20,000 gallons of water, hangs from the side of the pool and requires no electrician for hook-up...just plug it in.
The cell is easily removed for cleaning.
At $299 + free shipping each, I would consider buying two for my in-ground pool. They might even fit in the skimmers.
A smaller unit, the SALTRON® MINI, will chlorinate 600 gallons of spa water. Comes with timer, no electrician required and free shipping for $249.95
HOW DOES A SALTWATER CHLORINATOR WORK
A master panel controls the electricity to a chlorinator cell that is plumbed into the pool water return line. The electrified plates in the cell split the salt into chlorine and sodium sulfide. The amount of electricity determine amount of chlorine.
As the the contaminants in your pool are oxidized, the chlorine recombines with the sodium to become salt again.
The salt, like stabilizer (cyanuric acid) can only be removed by draining water from the pool. I drain water every year when I close my pool so chances are I will have to add a little salt when I re-open in the spring.
I love this system, some benefits are realized immediately. A saltwater sanitizing system is definitely worth the upfront cost.
UPDATE JULY 2014:
Salt system still working well with original electroplates. To avoid calcium deposits, maintain minimums for water calcium.
A friend who installed the Saltron in her above ground pool 2 years ago had a problem with the plug that required replacement but otherwise, her Saltron is working well.
UPDATE SEPTEMBER 2017 My Swimpure system is still working great. I have read that the electrolytic cell requires replacing after 5-7 years and here it is, year 7 and working fine.
One problem to note. I had a small drip from the plumbing at the multiport valve. This drip landed on the pump motor and destroyed the bearings. DO NOT allow saltwater to get on the pump or anything else subject to damage from salt corrosion.

---