Aquabot Capacitor Replacement for Motor
by Chris S
(Commack, NY)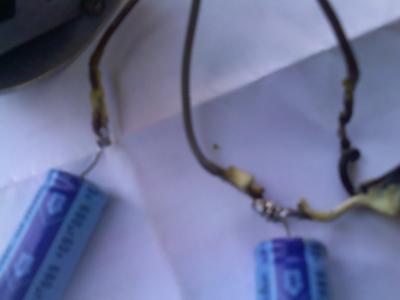 Aquabot Pump Motor Capacitor Repair
by John LoGuirato
(Holbrook, NY USA)

Could not add picture to John page so just doing my own page to add picture to assist anyone who want to replace capacitors themselves.

Just wanted to add my own experience. I took your advice and did the repair myself. I bought 4 capacitor on eBay for $6, it took me a while to buy them because I was trying to get exact replacement which was 680uf 63V and temp. 105C. I got 680uf 63V and 85C but it work great anyway. Couple of things I would like to add, I contacted someone from a repair center for aquabot. He said you can use duct seal for replacing the epoxy to seal in and hold the capacitor in the motor cap and vegetable oil for replacement oil.
I use a caulking from Pep boy for sealing and insulating electrical wires $16.00 and the vegetable oil to add to the rest of the oil I save when I open the motor. It is really working better than before I believe. Thank for all your help and saving me a lot of money. I took picture of the capacitor hook up if I can add them to here I will if not I will add on my own page just to pass on the knowledge and keep up the sharing.

Click here to read or post comments
Join in and write your own page! It's easy to do. How? Simply click here to return to Repair stories.