Maytronic Dolphin Repair Parts: The Switch and Socket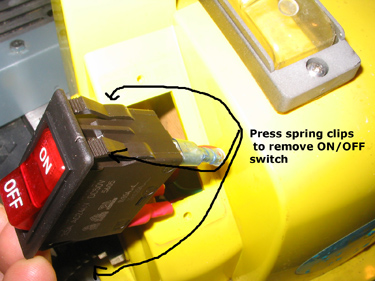 ---
Help for your Dolphin has arrived! Aquaquality Pools and Spas Inc, is now a dealer and service provider for Dolphin Pool Cleaners and Tiger Shark Pool Cleaners. 1-866-876-8643
---
---
ON/OFF SWITCH
FOR THESE DOLPHIN REPAIR PARTS, THE TRANSFORMER MUST BE UNPLUGGED! ELECTRICITY CAN KILL YOU!
This switch is a Double-pole. It is two switches in one, switching both the black "hot" wire and white "common" ground wire.
The ON/OFF switch is easy to remove. Unscrew the 2 exterior screws holding the switch and cover. Reach inside the casing and squeeze the clips, top and bottom while pushing out the switch.
Remove the wire connectors and re-install.
TESTING Refer to the lower Photo. 2 continuity checks will determine if the switch is OK. First, touch a probe terminal A and a probe to B. Continuity should be present with the switch ON. Perform the same test on terminals C and D.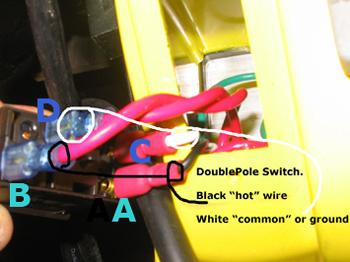 DC POWER OUTLET SOCKET
Removal is easy, two screws on the exterior and pull it out. No need to open the case. Set screws clamp the wires in place.
A continuity test will determine if the socket is good.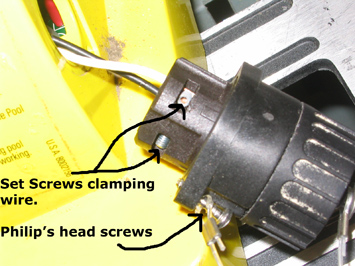 If there is any question about wiring the pins on a replacement amphenol plug for the cable, simply remove the plug from the power supply and look at the back of it.
The Amphenol plug is a common replacement part that may be purchased at most pool supply stores
Be certain to unplug all cables and transformers before doing any diagnostic testing of the power supply.
---