Above Ground Pool Cleaners
The Pool Blaster Max/CG Is one of my favorite above ground pool cleaners. It is a self contained unit that may be handheld or attached to the end of a skimmer pole and used as a literal vacuum cleaner.
Pool Buster is cordless and holds a charge for about one hour. Buy the Pool Blaster CG if it will be used as a pool cleaner.


Other Above Ground Pool Cleaners
Other above ground pool cleaners are ingenious for their simplicity. They have one motor, a big pump that sucks water into the filter bag and provides propulsion with the same jet stream of water.
Most do not climb the walls of your above ground pool, but will climb a very slight gradient…as long as the bag is not full, therefore, get the pool cleaner with the biggest pump you can afford.



When the filter bag fills with debris, the pump will eventually be unable to pull enough water to propel the robot. Many robots come with a 2 micron bag that may fill quickly.
My opinion is a 20 to 100 micron bag would work best in a dirty pool and the 2 micron bag should only be used for light dirt.
The Aquabot Pool Rover pumps 4200 gallons an hour and comes with a 40 foot cord. Cleaning time is 1-2 hours. Use this cleaner on FLAT bottom pools.
The Aquajet, Aquabot Turbo T-jet, Pool Rover Plus and Jet-Demon all filter 4800 gallons/hr. All are equipped with 51 foot cords. Cleaning time is 1-2 hours. They are much more expensive than the Pool Rover.
The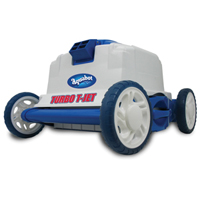 See it at Aqua Quality Pools and Spas, Inc
Turbo T-Jet and Pentair Prowler 710 may be used in above or in-ground pools. These cleaners will climb walls if the corners are curved properly. The Prowler 710. Comes with a 50 foot cord, 2 micron bag and operates on 30 volts
The Dolphin Robo-Clean is a smart looking machine that operates on 24 volts and has a 40 foot cord. A friend recently took his Robo-Clean to a pool store for repair. Not only did the store refuse to service this machine, they said it is basically a throw away.
Another Maytronics robot , the Dolphin DX 3, carries a 2 year warranty, has a 55 foot cord and is recommended for pools up to 36 feet long. DO NOT buy the DX 3 online. The warranty is void if purchased over the internet.
Two other above ground robots are the I-robot 300 and 100. For flat bottoms.
---