Dolphin Troubleshooting for Your Maytronics Robot
Dolphin Troubleshooting is simple. Don't even bother taking apart the motor compartment. Besides having many many screws, you just can't get replacement parts so save your time.
Help has arrived!
Aquaquality Pools and Spas, Inc is now a dealer and service provider for Dolphin Pool Cleaners and Tiger Shark Pool Cleaners. 1-866-876-8643

---
---
Wet Transformer, Wet Power Supply. How to fix it.


If Your Maytronics Dolphin Stops
If your robot stops moving, you MUST shut it down until the problem is corrected. Failure to do so may burn out your drive system.
You MUST check for toys or other objects such as acorns that may be stuck in the drive track causing it to stop.

YOUR TRANSFORMER TIMER MAY BE BAD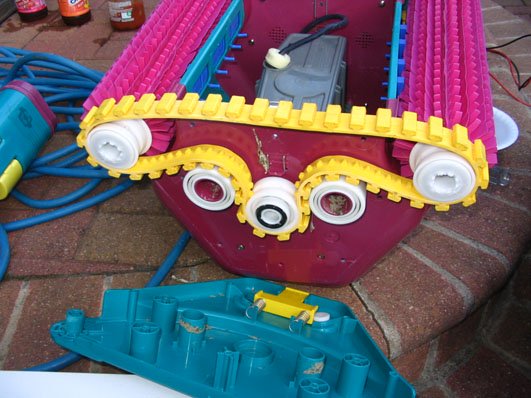 This is the best advice I can give you. Remove every last item from your pool before cleaning with your Dolphin. The smaller the object, the more important it be removed prior to cleaning.
These little things can get stuck behind the sideplate and jam the drive system causing irreversible electrical damage.
Prevention is key to your robots health because if your robot breaks, you are going to pay with LOTS of down time while the robot is sent for repair.
Maytronics Dolphin Diagnostic Power Supply
The Dolphin power supply differs greatly from Aquabot. Aquabot transformers only step down the voltage to deliver A/C current to the robot. Dolphin steps down the voltage AND transforms to D/C with an internal circuit board having diodes. I believe this circuit board is one of the few user parts available.
---
---
To check your Maytronics Diagnostic power supply, use a multimeter set to 200vdc. Output voltage should be about 38 volts D/C.
A known exception, the Robo-Kleen power supply puts out about 30 volts A/C, you read correctly...A/C.
Check the label on your transformer for voltage output and type.
Maytronic Dolphin Diagnostic Transformer (opens new window)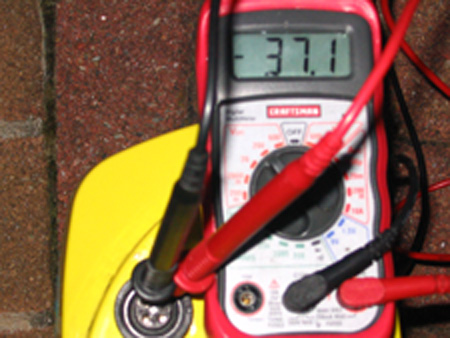 Post your story or question here.
Post your story or question here.
What Other Visitors Have Said
Click below to see contributions from other visitors to this page...

---